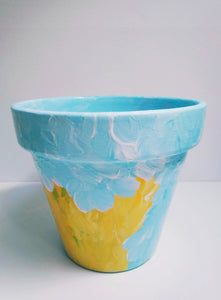 Refresh your home with Award Winning Designer -

Stunning AGNES IGNACZ hand painted Pots to bring the summer to your home.


My collections are known for experimental shapes, vibrant hand-painted designs and detailed craftsmanship.

My statement designs demonstrate innovation and uniquely identifiable aesthetic.

I have created a beautiful world of the delicate mixed with the bold.


Please fell free to contact me for custom-made orders

Drain hole at the bottom

Waterproof finish

When you turn your Flower Pot around you will see that every side is a little bit different. So you can change and enjoy every day



If you would like custom made order please contact me.


---


Hand painted terracotta plant pot with drainage hole, multiple sizes and colours available


This hand painted terracotta plant pot with drainage hole is the perfect companion for all you green fingered house plant enthusiasts out there.

SIZING

Available in a wide variety of sizes from ⌀13.5cm and up to ⌀19cm

My recommended rule of thumb is so allow at least 2cm difference in top dimensions it's you're housing plastic pots inside of but make sure you check the dimensions though as this is not always the case and you may needed larger!

PLEASE check that the pot is going to fit before purchase.


WATER

Each pot is lovingly hand painted with acrylic paints and then varnished to seal and protect from water damage. The pots are safe for planting directly into but I don't recommend you allow the pot to get too wet to prolong the life of the paint/varnish. If you using the painted pot to house a plant in a plastic pot, please ensure you check the dimensions before buying to ensure they fit.


DIMENSIONS [please note all dimensions are external]


Top ⌀13cm - 11.5cm tall, ⌀7.5cm at base
Top ⌀15cm - 13.5cm tall, ⌀9cm at base
Top ⌀17cm - 15.5cm tall, ⌀10cm at base
Top ⌀19cm - 17.5cm tall, ⌀11cm at base

Round shape:

Top ⌀16cm - 13.5cm tall, ⌀10cm at base
Top ⌀18cm - 15.5cm tall, ⌀12cm at base



IMPORTANT INFORMATION

Please allow for slight variations between each pot due to the nature of them being painted by hand. It just makes them extra special!


PLEASE make sure you check the sizing before purchase to ensure the pots are a suitable size. If you have any concerns about sizing don't hesitate to contact me directly.

INTERNATIONAL SHIPPING


All international orders are sent with a tracking reference. Please be aware of delays. Please contact me for estimated worldwide shipping costs before purchase if you would like to know how much your potential order will weigh/cost to ship.



This Pot: Top ⌀19cm - 17.5cm tall, ⌀11cm at base

Happy Shopping